By Jewel H. Lee
When we ask any health specialists what is recommend for optimal health, they generally answer: eat right, hydrate, and avoid being too sedentary, move a little! Then, we think: 'Any workout or exercises? As long as we are not a couch potato, right?!' If that was the case, all athletes will never get injured nor need an alignment yoga or therapeutic yoga to recover! The reality is that most athletes (pro or amateurs) can testify that just moving enough will not cut it! From preparing themselves before a match to recovering from any sports, they can tell you that it is more than just about routine drills or workouts.
Did you know that the most pro-athletes hire yoga teachers to train before and after a game? Here are some of the athletes who secretly or publicly practice yoga: Shaquille O'Neal, LeBron James, Tiger Woods, Serena Williams, Tom Brady, Ray Lewis, Victor Cruz, Mike Krzyzewski, Evan Longoria, Kevin Garnett, Vernon Davis, Kevin Love, Patrick Peterson, Blake Griffin, Sean Burke, New Zealand's All Blacks rugby team, the entire Super Bowl XLVIII-winning Seattle Seahawks, many of the Patriots and Cavaliers players, just to name few. Nowadays, many colleges and university teams made yoga mandatory to help their athletes.
Many men say that they are not flexible enough to come to a yoga class! The above athletes can testify that yoga is not just about flexibility, here are just some of the benefits that these athletes claim about yoga:
1) Strength & Power
In sports, only certain muscles get developed, while others remain underdeveloped, which creates imbalances and asymmetry. As for yoga with proper alignment can help improve performance by promoting efficiency and generate more strength and power.
2) Injury prevention and recovery
Unlike any sports, during a well-guided yoga session, we observe the quality of our breath, heartbeat, the placement of each part of our body to develop more than just muscle tone. By learning about anatomy and by bringing awareness to ourselves in a pose, we become more mindful to ourselves, which is key to prevent injuries and to recover even faster.
3) Stress relief/ relaxation
Just like our phone battery, we need some time recharge before the next game or competition. Regardless for pleasure or for competition, performing a sport is demanding to the body: pressure on joints and bones, muscles are pushed to their limits, heart gets stressed, and even the mind is racing due to the anxiety or pressure to perform or compete! This is where yoga comes in handy: well-rounded practice will help in managing stress and get rid of those stress hormones from the body.
4) Boost energy
Because yoga is more than a simple stretch or a conventional workout, it will balance not only the muscles but also the nervous system, which will give you a boost of energy! Not only the physical level will be improved, but also the physiological level: it will boost your metabolism, balance hormones, make some organs function more efficiently, etc.
Since athletes get enough strength building in their workout, not all types of yoga are recommended. You may be tempted to go for a Vinyasa/Flow, Power or Ashtanga; however, more experienced yoga teachers would suggest Hatha, Iyengar or alignment focused yoga in combination with restoratives and therapeutic yoga, where we get to learn the limits of our muscles, ligaments, and joints while heightening awareness into improving the quality of our breath without stressing the heart.
As sports are demanding, athletes will sometimes lament having to do any physical activities. In these moments, yoga can motivate and inspire them: it will give you a break from your drills, loosen any tightness on the body by expelling lactic acid build-up from muscles, raise your spirits, and release any stress you may have. All athletes must stretch before or after training, so why not come to a yoga class before or after training where you will get more than just a boring stretch? Find the next yoga session in town or to find the right yoga teacher near you, visit our website: www.yogatribes.com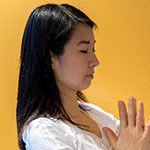 Jewel Harini Lee
Certified alignment yoga teacher (675 + YTT), specialized in alignment & restoratives yoga.
Founder of AYA www.ayamtl.com
Her blog: www.jewelyoga.blogspot.ca
Follow her on: www.yogatribes.com
Instagram: @jewelyoga
Facebook: www.facebook.com/alignement