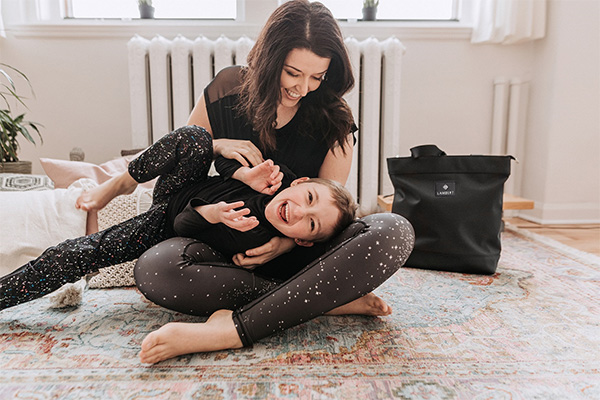 Rêves d'enfants / Make-A-Wish Canada
On February 13th, young and old gathered at Studio Giovanelli in Montreal for a very special launch of the Oraki and Lambert brands in support of Rêves d'enfants / Make-A-Wish Canada. On site, invited bloggers and faithful clients discovered the STELLA collection, which includes a Lambert bag and Oraki leggings. For each product sold, $ 5 will be donated to the Foundation to help grant children with life-threatening illnesses their biggest wish.
For the launch of the Stella products, the Giovanelli studio was transformed into a true tribute to wishes. The guests could write their biggest wish on stars and hang them on a light installation. Several partners were also on hand to offer vegan delicacies, healthy beverages and even chair massages. Artist Krista Bursey also created a live canvas with the stellar theme of the evening.
The defining moment was most certainly the speech of Anabelle, mother of the fabulous Olivia, 6 years old, a wish child of the foundation, who is in remission from acute lymphoblastic leukemia. Anabelle and Olivia are both ambassadors for the Stella campaign that can be seen on social networks. In a touching speech, Anabelle shared the story of Olivia, the shock of the diagnosis, the courage of the young girl during the treatments and also the positive impact that Rêves d'enfants / Make-A-Wish Canada has on their daily life. Juli Meilleur, Regional Director for the foundation in Quebec, also spoke and took the opportunity to present a magic wand as a thank you gift to Cynthia Savard (Oraki) and Mélissa Lambert (Lambert), who, thanks to this collaboration, greatly contribute to the foundation's mission to grant as many wishes as possible.
With the participation of the YogaTribes event team, the guests were treated to a unique Kundalini yoga session under a star projection with teacher Phebus Astoul. Even the little ones took their place on the mats! A great way to end an evening full of magic.
The Stella collection is available on the Lambert and Oraki websites and demand is already high. To learn more about Rêves d'enfants / Make-A-Wish Canada's mission, visit www.childrenswish.ca
Stella bag: $ 139.99, of which $ 5 will be donated to Rêves d'enfants / Make-A-Wish Canada : https://bit.ly/2OOB3YH
Stella Legging: $ 115 of which $ 5 will be donated to Rêves d'enfants / Make-A-Wish Canada : https://bit.ly/2OTCqFs
About Lambert
Lambert offers chic and practical bags and accessories, in vegan leather, designed in Quebec. Their products are made in China in a factory that corresponds to the values of the company. The bags are made of polyurethane (PU), in the spirit of an animal ethic.
About Oraki
Oraki offers yoga and sports clothing made in Canada. They have their own exclusive fabrics created in their factories and from recycled plastic bottles. Their mission is to make high quality clothing from post-consumer materials from landfills and the oceans.
The YogaTribes editorial team
Photo Credits :
Stella Campaign: Jessica Samyn Photographie
Launch: Sarah Rouleau Photographe