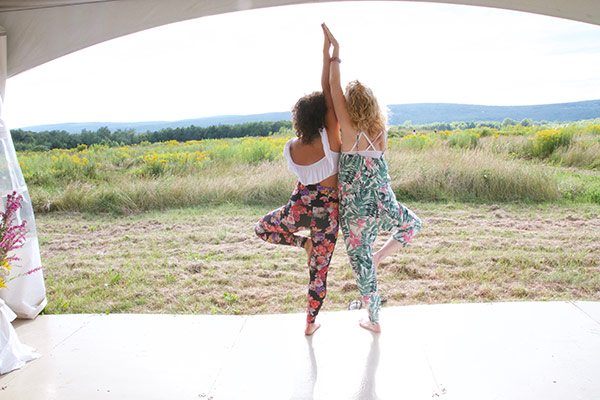 What do passion for the environment, wild flowers, kindness of the heart, yoga, soulfulness and a previous hockey career have in common? Oneka Elements, an amazing company whose headquarters are nestled in the quaint town of Frelighsburg in the Eastern Townships of Quebec. In addition to creating amazing products, the company takes the survival of our planet to heart.
A former hockey player turned eco-conscious entrepreneur, Philippe Choinière and his spouse Stacey Lecuyer, founded Oneka in the guest room of their first home. The creators of this line of eco-friendly shampoos and bath products are not only kind and generous, but they're super inspiring too.
I first had the chance to discover their body wash at Satya Yoga studios in Bromont and I was immediately taken by the gorgeous lavender and angelica essence. Like its name suggests, using this product is a divine experience.
When I was invited to attend their annual open house at their gorgeous farm last summer, I was quickly smitten by the stunning fields of fresh sage and calendula, as well as by the sprawling and the jaw-dropping vistas. They offered fun open-air shampoos, fresh local vegan cuisine and a number of terrific yoga classes under a open air tent with experienced teachers Bhaskar Goswami and Rachelle Singh, as well as a mediation session with Dawn Mauricio that involved breathing in wild flower aromas specifically picked for our guided hour long meditation. It was total bliss.
Needless to say, the weekend and setting were heavenly. It was also the beginning of a friendship and for me, a deep admiration for what they do and what Oneka stands for.
After Philippe's hockey career ended in his late twenties, he and Stacey decided they wanted to start a business having a positive impact on the environment and on people's health.
A serendipitous meeting with a chemist while they were in Western Canada confirmed their journey in the creation of plant based ecological beauty products that are not only biodegradable, but also safe for the skin.
In 2013, Philippe and Stacey acquired the land that belonged to his and two other families, and thanks to them all, they began the journey of growing their own wild flowers. In addition to being available in over forty retail establishments in Quebec, their beautifully packaged products are now sold across Canada.
Philippe quotes the book The Awakened Company by Catherine Bell as his guide for running his conscious enterprise. He views the management of his company as a holistic experience, where each employee is given a voice and credits conscious and spiritual teachings in assisting him in making things run smoothly and also helping them take the business to the next level.
He also credit's Stacey's involvement in Oneka's success. "She is very intuitive, and is able to help make the right decisions for the company from that deep, knowing place. We complement each other nicely."
An example of this kind of conscious management is their continued commitment in exploration in finding an alternative to the plastic bottles they use for storing and selling their products. "A lot of research is being done in this area, and I'm convinced we will find something that is biodegradable," says Philippe.
Although interested in sustainability, Oneka is also looking to develop products that are renewable for the planet and for our health. "Sustainability maintains the status quo. I'm interested in making things that are renewable."
When asked about the state of our planet, Philippe quotes Stonyfield Farm chairman Gary Hirshberg: "Business is the force that got into this mess and is the only force that can get us out of it."
According to Philippe, companies are agile and can move quickly. "We indeed have a responsibility to turn this mess around."
I'm more than convinced that Oneka is on the right track in doing so.
Until then, I'll continue to look forward to smelling their fresh flowers, one shower at a time and I highly recommend that you do too.
You can find out more about their products here.
Isabelle Lafleche
I'm a writer and the author of the novels J'adore New York, J'adore Paris, and J'adore Rome. You can follow me on my blog, Twitter, Facebook, Instagram, and on my website.