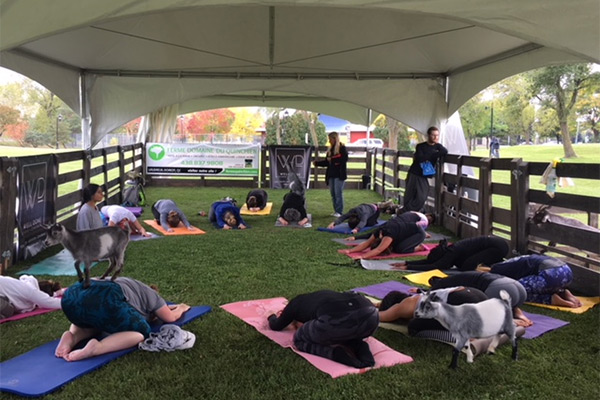 I've lived in Verdun for many years, and I must admit that what I love most about my neighbourhood is the constant influx of innovative, think-outside-the-box businesses. Soon, a brand-new studio, Espace Well Done, will appear on the Well (our shorthand for Wellington Street). However, since everything is done a little differently in Verdun, co-founders Jessica and Lysanne have created a coworking and yoga space where, in addition to the regular yogis who sign up at the studio, every entrepreneur using the space can also attend the studio's yoga classes. When no classes are scheduled, the yoga space will be used as a meditation room open to all entrepreneurs (if I worked there, I would spend all my time in this room!)
To highlight its new neighbourhood presence, the studio organized a full day of Goat Yoga and Pilates on the banks of the Saint-Lawrence River. Personally, it was my first Goat Yoga and Pilates experience, and I had no idea what to expect. I was telling my friends about it at dinner one evening and I was bombarded with questions: "What do you do with the goat?" "Where exactly does the goat go while you're in a posture?" "Does everyone have her own goat?" Well, today I can demystify Goat Yoga and Pilates for you:
The class takes place in an enclosure. In our case, there were three goats for roughly ten participants, so no, not every student gets her own goat. Strictly speaking, you don't really "do" anything with the goat; rather, the goats climb over the yogis during the class. The goat breeders are on hand to encourage the animals to approach the yogis, and ensure everyone enjoys the experience. Imagine doing a flow with a goat on your back!
My tips for Goat Yoga and Pilates (because it's a daily practice, right?):
Wear non-slip clothing. My pants were slippery, and the goats did not enjoy the experience; especially the poor animal who fell off as she tried to jump onto me while I was changing postures.
Bring your oldest mat, first because classes are held on grass, but mostly because the goats can't differentiate between your mat and the grass.
Bring an open mind, and don't expect to relax or experience a traditional yoga session. Chances are excellent that this activity will attract curious onlookers.
Espace Well Done will open soon on Wellington, near the De l'Église metro. Follow their Facebook page for the latest news and to receive information in real time.

Namaste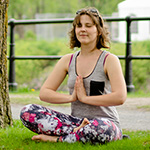 I'm looking for the most amazing yoga classes in Montreal
I'd love to talk about you or visit you. Would you like me to come to your studio?
Email me : [email protected]