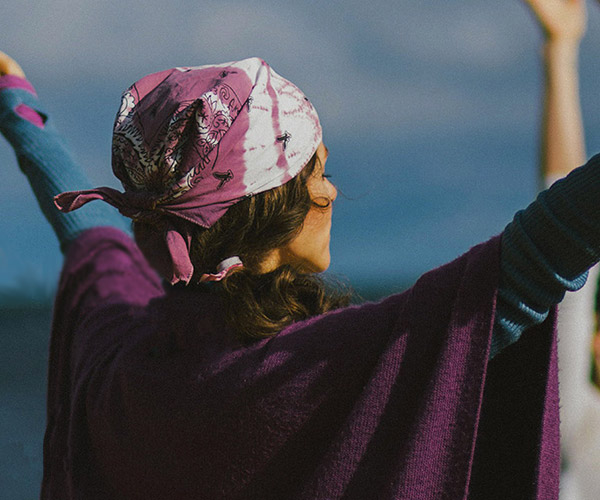 by Catherine Maisonneuve
What are you doing on the weekend of August 3rd & 4th? If you're free, look no further – we've got two getaway ideas that combine yoga, wellness and detoxing.
Option 1: Head for the shores of the town of Hudson, to the west of Montréal, where the annual Park Rising yoga and wellness festival will be held August 3-4.
The festival, which is presented by Hudson's Park Studio, offers you a weekend of rest and renewal with two days of wellness, fitness and relaxation in an exceptional setting.
The festival features yoga and meditation classes, many of which are held outdoors so you can enjoy the fresh air by the waterside. Healthy, fresh and local food will be for sale, giving you all the energy you need for the day's classes. Enjoy wellness classes where you can learn how to improve you eating habits, optimize your bedtime routine or reduce your stress levels. And there's music in the relaxation/wellness mix too, with a continuous line-up or musical performances throughout the festival.
We'd like to offer you below our idea of the perfect Park Rising experience.
8:30 – 9:30 a.m. = Yoga Café
What is it? Park Rising, Kaito and Melissa Drover have created a new routine to start your Saturday morning off right. Enjoy a 60-minute yoga session that's "better than coffee" at Kaito Coffee Roasters. Melissa will create a sequence sure to boost your energy and leave you stretched and renewed for the rest of your day. The class, which begins with a cup of coffee, will focus on balance and is open to everyone.
9:45 – 10:45 a.m. – Meditation with the Birds
What is it? A basic workshop that will teach you simple meditation techniques through which you can deeply connect to yourself and the space and calmness around you in an outdoor setting.
11 a.m. – 12:15 p.m. – Chakra Flow
This 75-minute vinyasa class includes a short discussion of the chakra system and the important role it can play in our everyday lives, affecting our decisions, our convictions and our reality.
1 to 2:15 p.m. – Green Smoothie Break
Enjoy a Zen moment with a refreshing and reinvigorating smoothie. Organic mango and fresh local kale plus coconut water make for a well-deserved health break!
3:30 – 4:30 p.m. – SUP Yoga Fusion
This SUP yoga class combines hatha and vinyasa yoga sequences with surf on still water. People who love both SUP and yoga will love the two together.
7 – 10:30 p.m. – Performance by Funktion and fire show
End your day with live music and celebrations on the majestic patio of the Willow Inn with Montréal group Funktion, followed by a fire show with Adam Mahmoud.
What do you think about this spectacular lineup? In partnership with "Give Back to Nature", Park Rising will plant 10 trees for each festival ticket that is sold, helping to revitalize and protect our environment. By participating in the festival, you will give back to nature while giving yourself some self care. Will we see you on the weekend of August 3rd in Hudson? We hope so!
Option 2: Don't miss the fourth annual Yoga Champêtre at the Oneka organic farm in Frelighsburg on August 3rd & 4th. Just imagine a weekend of yoga to rest and renew, totally free og charge, where you can participate in seven classes and workshops in addition to visiting the gardens, learning more about wild and cultivated plants that are used in Oneka organic products, or simply enjoying a picnic in the fields. The program of activities includes educational tours of the Oneka garden and fields with an herbalist and outdoor classes with local teachers.
Below, you'll find our suggestion for the perfect Yoga Champêtre experience:
10:30 – 11:15 a.m.: Talk – Evolving Your Yoga
11:30 a.m. – 12:30 p.m.: Slow Flow Yoga
12:45 – 1:45 p.m: Picnic in the Field
2 – 3 p.m: Ashtanga for Everyone
Enjoy your stay in the idyllic countryside to the fullest by visiting gardens, taking free yoga classes, having picnic and attending outdoor wellness workshops and demos. It's free, but don't wait to book your spot and choose your activities, now that you have plans the weekend of August 3rd – it's time to make them reality!