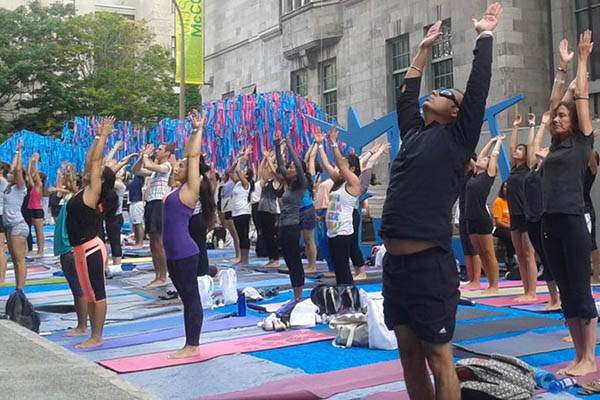 The Tout le monde yoga tour in Montreal is free yoga all summer everywhere in Montreal! It consists of a series of unique summer events designed to help you discover yoga, for free.
Through a partnership with studios and instructors in the Greater Montreal Area, YogaTribes has developed a diverse original programming with over 75 free classes offered between June 21st and September 20th. Among others, Montrealers will be able to take part in a Sound Off Yoga session offered by Yoga Sangha on September 2nd at Place des Arts as part of the Orchestre symphonique de Montréal's Classical Spree, initiate their children to yoga at the Théâtre Outremont on July 29th and practice yoga in some of Montreal's most beautiful places like Bota Bota in the Old Port, or the McCord Museum and, for a weekend, at the Oneka organic plant farm, located in Frelighsburg. The complete programming of free summer classes will be available starting June 21st.
For YogaTribes, Tout le monde yoga is an occasion to demonstrate that yoga really is for everyone, regardless of size, age, weight or physical fitness level. Georges Laraque, spokesperson for the event, is the perfect illustration of the diversity among yogis. "As someone who has been passionate about yoga for fifteen years, I want to convey the message that yoga really can help everyone and that it encourages us to lead a healthier, more balanced lifestyle. I hope that the event reaches as many people as possible, especially those who haven't yet dared to try, because there is nothing better than trying it out to truly understand its benefits," the former professional hockey player maintained.
To see the complete schedule of activities, check here!