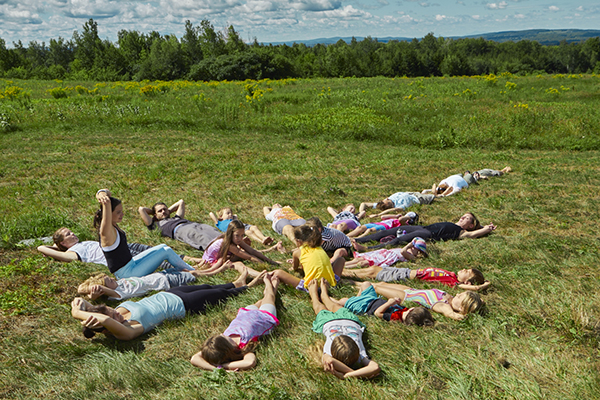 Have you ever tried doing yoga at home with your child? Was the experience disappointing? Don't give up! In this article, I'll share a few tips on helping your child discover yoga. First and foremost, you should know that the key lies in ensuring the practice is carefully tailored to your child's age, so that it becomes a time for play, discovery, and fun.
Ages 0-5 – suggested class length: 20 – 30 minutes
At this age, your practice should be highly "visual". For instance, since most postures represent animals, you could use a few accessories to recreate a trip to the zoo, farm, or pet shop. Make sure you are only holding the postures for a few seconds.
Here are some ideas for making your practice more visual for your toddler: try a yoga card game; use a storybook with pictures of animals (as you are reading the story, stop on each page and enter into that animal's pose); or make animal masks (you then become the animal, and imitate its movements and sounds). Play some soft background music and add relaxing postures such as Child, Bear, or Cloud (Shavasana) towards the end of the session. For this relaxation part of your session, work on stimulating the senses; for instance, you can massage your child's feet or hands, run a feather over her skin, or use a soft scarf to gently caress his face and body. Some nature sounds or a Tibetan bowl will help end your practice on a calm note.
Ages 5 – 8 – suggested class length: 30 – 45 minutes
At this age, children have fertile imaginations and very high energy levels. Prepare for a highly-active session, and keep in mind that children in this age range can be easily distracted. Focus on imagination and curiosity: go on imaginary "journeys" where you meet animals in their natural habitat.
This time, however, introduce a few interesting facts about each animal (a quick Google search will help). You can also use a stuffed animal as the hero of an invented story; along the way, this character meets many other animals, which transform into their respective postures. You can also introduce a simple version of the sun salutation, which your child can slowly learn to perform on her/his own. Help your child stay focused during the postures by counting, singing, making animal noises, trying different speeds (fast, slow, slow-motion), or "acting out" the postures as though they were characters in your story.
Until age 8, focus on ensuring your child is breathing properly in every posture and continues to visualize the short story you will have chosen in advance. This story should reflect your personal values or those of yoga (non-violence, non-covetousness, respect for truth, contentment, and joyous effort).
Ages 9 – 12 – suggested class length: 45 – 60 minutes
For this age range, you can offer a balanced session with standing postures, back and forward bends, and twists. Encourage your child to hold each posture a little longer and explain the benefits of each one. Use music, dual poses, acro yoga, and sun salutations, share positive affirmations, and take the opportunity to "philosophize". To close the session, use Pranayama techniques such as Bee Breath. Just make sure your child is comfortable and is following directions properly!
Age 12 and over – suggested class length: 45 – 60 minutes
For teens, you can draw inspiration from adult classes while adding some Pilates movements for a "training session" feel. Ask them to work one muscle group at a time (thighs-abs-glutes is always a winning combination!) Set a goal! Ask your teens to play their own music for added motivation, and focus on relaxation at the start (as a meditation for greater focus) and end of each session. Offer more advanced sequences and postures (both individual and dual) and don't forget to provide plenty of encouragement to help your teen feel more confident and engaged. To close your practice, feel free to play a pre-recorded meditation chosen from a free app called Insight Timer.
Most of all, remember to have fun!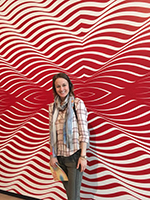 Valesca da Costa Gehrs
To contact me: [email protected]
https://apprendreagrandir.ca/
Me, at a glance: a journalist by training, a Brazilian by birth and adopted Quebecer, mother to two lovely jewels, the spouse of a pretty great guy, and a yoga instructor for children. Dig a little deeper, and you'll discover that I'm passionate about the welfare of children (they're the future of our planet!) and am a real people person. I love to learn, I love nature, music, the arts… in short, I love life and everything that's authentic. I look forward to sharing yoga practice with you and/or your children!! Certified by Yoga Alliance and the Fédération francophone de yoga.