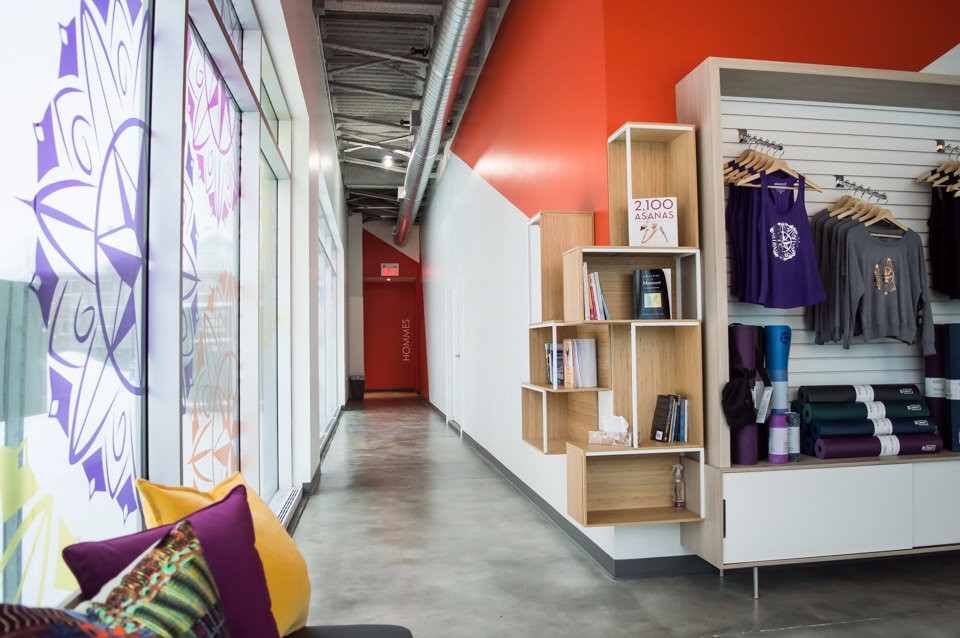 I recently had the pleasure of meeting Dani MacLean, owner of DAMA Yoga, a studio she opened in December 2016 in Longueuil on the South Shore of Montreal. Dani hails from Nova Scotia, and just like her mom, had an early passion for health and fitness. In 2002, Dani took her first yoga class in her hometown of Halifax and, after her first Teacher Training in 2003, she dove into teaching several classes a week. Her practice (at the time) was strictly physical.
After thirteen years, Dani's practice and teachings have opened immensely, going far beyond the physical postures. This evolution came naturally. She chose to let yoga find her, one step at a time and only when her mind and body were ready for more.
Dani's path to teaching (full-time) came slowly. She spent eight years in the hectic corporate world of IT consulting and far too many days in black suits and high heel shoes. It was her body that first craved the daily yogic path but ultimately, it was her heart that took the plunge and guided the creation of DAMA Yoga Inc.
After recognizing an opportunity on the South Shore, she left her peripatetic corporate career to open her own studio.
I recently discovered her studio after looking for a hot yoga class in the area this summer. After only a few classes, I was smitten: a 3,500-square-foot space with muted lighting, an impressive roster of talented teachers as well as fantastic Hatha, Vinyasa, and yin classes enhanced by some kick-ass music. The teachers' playlists are terrific, totally get me in the groove, and help me focus on my own practice.
DAMA means home in Sanskrit and her intention was to create a space where students feel a sense of ease and comfort as soon as they walk through the door. She also wanted to create an atmosphere where people can share freely. She hired a designer and created a lounge adjacent to the lobby area, which is both visually attractive and super welcoming.
To add to the studio's homey feel, Dani ensures that her teachers greet students as they arrive and when they leave. She's keen on building and fostering relationships between students and teachers and creating a sense of community.
Although she began teaching and practicing mostly for fitness reasons, her classes encompass the values of breath work, awareness, mindfulness, and kindness.
One of my favorite features of DAMA Yoga is the music chosen by her teachers to accompany their class. In Dani's view, music completes the beauty of an experience, and creates a seductive and more intimate practice. Also, Dani also studied with Ann Dyer, an American teacher and proponent of the yoga of sound. Dyer's teachings reveal the effects of sound on the material body, physiology, emotion, intellect and the realization of spirit.
Dani is also big on collaborating with other studios in the region, including Sun Rise Yoga in Delson, a studio that follows the same philosophy as she does. They openly share information, discuss their respective challenges and collaborate with each other.
When asked, she admits having no regrets about leaving the corporate world. More specifically, she doesn't miss the traffic, the crazy deadlines and the stress that came with her job. Although she admits to working more hours now than she did before, she says her work is far more meaningful and her passion is getting stronger day by day.
Her work feels like playing. Oh, and her kids are really proud too, which makes her one happy, balanced and content mom.
Isabelle Lafleche
I'm a writer and the author of the novels J'adore New York, J'adore Paris, and J'adore Rome. You can follow me on my blog, Twitter, Facebook, Instagram, and on my website.