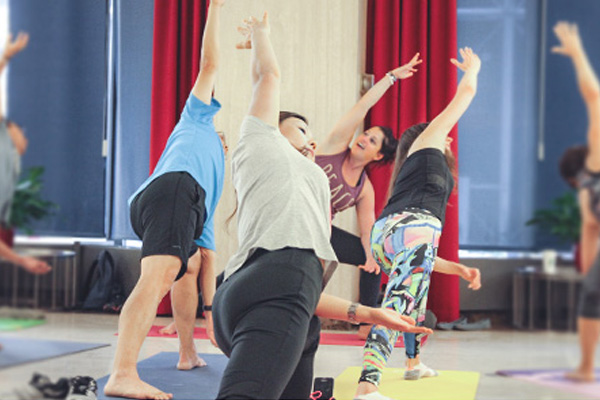 If you are active on the labour market, you probably understand just how difficult it is to find time during the week for sports or simply to check in with yourself. Given the daily rat race, our family responsibilities, and the excessive pressure we sometimes place on ourselves, we often neglect our own needs. Fortunately, there's an easy, practical solution: exercising in the workplace.
It was natural that Alexis Nihon Complex would reach out to YogaTribes for support in planning their first corporate yoga session, an initiative spearheaded by Heidi Picard, Alexis Nihon's Marketing Manager. The idea was to offer tenants of the Alexis Nihon mall and its two office towers an opportunity to take a break over the lunch hour and enjoy a fun group experience. That's how Yoga Lunch was born! As Heidi says, "the business world moves so fast that we rarely get a real break during the day. It's important to unwind, so what would best suit the employee-residents and make sense, given the Alexis Nihon infrastructure? There are no exercise rooms within the towers' walls, and thus no showers for other types of sport or fitness activities. According to Heidi, Hatha Yoga, with its meditative and traditional approach, was a natural choice. Offered over the lunch hour, this initiative would enable employees to get through the afternoon and end their workday with a better mindset.
Yoga Lunch is a true first. Since its start two weeks ago, the event has been extremely popular, residents have been pleased, and there is strong demand for the program to run again in January 2018. Studio HappyTree's Mélanie Richards is the instructor for the Alexis Nihon sessions, and YogaTribes has taken on all of the planning, logistics, and participant reservations work for the classes.
While it's still too early to determine whether Alexis Nihon's tenants are directly benefitting in terms of workplace productivity, Heidi has noticed that all sessions have been sold out, and participants seem to be enjoying the Yoga Lunch breaks, offered every Thursday throughout the fall.
What about you? Interested in integrating yoga into your workplace, or would you like to speak to one of our professionals? If so, consider YogaTribes! Developed in Montreal, our interactive platform provides a comprehensive experience, and we offer a turnkey, customized yoga solution with style that's suitable for everyone.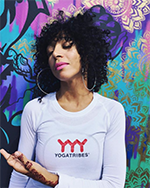 Myriam Laabidi
Columnist, YogaTribes.com
Myriam Laabidi began practising yoga eight years ago, when she was pregnant with her first daughter, and has never looked back! A hyperactive Mommy to her two little yoginis, she is a blogger and Instagrammer who's always searching for the latest trends. A born influencer, Myriam hopes to inspire other Moms with her lifestyle!