Before taking Melanie's Kundalini course, my knowledge of it was limited to a single course. The course was given at my subscribed studio, allowing me to take it when I had some free time. After an hour's worth of work, I was told that my pain did not belong to me, and that I had to fight it to be stronger while watching the hands of the clock, which I think stopped working because they advanced very slowly. I had vowed to never take any lessons again from this teacher.
And then, as we are approaching SoundOff, I really wanted to follow a course with Melanie Richards at Happy Tree, and since I'm trying to constantly vary my styles, I suggested to Melanie to follow her course on Kundalini.
As I enter Happy Tree, I immediately felt the weight of my day fall off my shoulders. I left Ste-Catherine and its frantic rhythm behind to enter a lounge, tamed with smells of incense. There's a large armchair, allowing you to relax while drinking tea, before starting your course.
When I chose this course, I expected it to be different. Each type of yoga is different. Kundalini's goal is to achieve self-realization through the practice of sessions, which include prescribed poses for a specific purpose. In the western world, Kundalini made its debut with master Yogi Bhajan who advocated its use with addicts. I would say that understanding the precision and history of Kundalini has helped me with its practice, and has made the session more meaningful.
The session started with the opening song and warm-up. Then, we were asked to take each of the prescribed postures. What I particularly enjoyed of Melanie's teachings was that she took her time: the time to settle in her poses, to explain why each pose is important, to offer alternatives, and to encourage us to maintain our posture. The relaxation period was accompanied by music by the gong.
The studio offers Hatha courses, Hot Flow, Yin, Flow, and many more guided by Melanie. She will offer other classes of Classic Hatha during the Yoga Immersif du 9 Septembre 2017. It's a beautiful way to try her classes.

Namaste!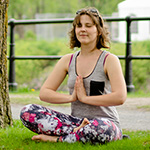 I'm looking for the most amazing yoga classes in Montreal
I'd love to talk about you or visit you. Would you like me to come to your studio?
Email me : [email protected]