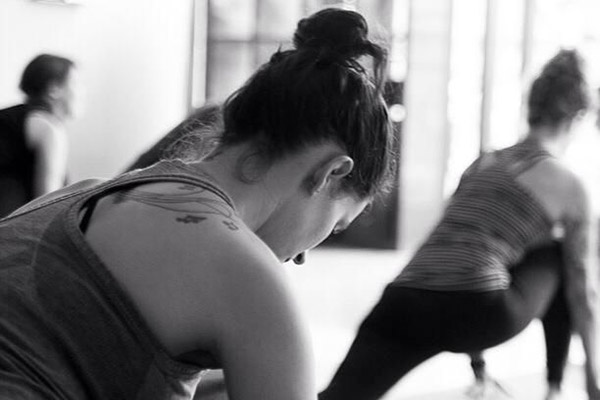 I visited Mouvement Humain on an beautiful early-summer day. Warm sunshine was pouring through the glass wall of the second-floor studio, which overlooks Plaza St-Hubert and is lined with an array of exotic tropical plants. The effect is stunning! The room's décor extends the look right down to the colour of the stability balls, and features a grey wood floor reminiscent of Central America. These surroundings help ensure your stress melts away the moment you stretch out on your mat.
For my visit, I had decided to try the Essentrics class, to see what else could be done on a yoga mat. Occasionally, I like to choose something besides yoga, since I enjoy all sorts of different exercise types. To this end, while this studio does offer yoga classes, you can also take Pilates, ball Pilates, stretching and toning, and Essentrics sessions (and Aerial Yoga was added after my visit!!) Although all classes feature mat work on the ground (except for Aerial Yoga), there's a variety of approaches that allow for a range of muscle work. It's great to know your options, since a membership often provides access to all of the studio's classes.
Getting back to Essentrics, the class begin with music and movement to warm up all muscle groups. Next, our instructor Audrey led us through a series of tension and relaxation moves to work each muscle, always with a rhythmic, dynamic approach. At times, I found myself in postures that were similar, but not exactly identical, to those in yoga. That said, my yoga skills obviously helped me position myself properly and avoid injury. The time flew by and after this midday class, I was energized to go on with my day.
In addition to the courses I listed above, the studio also offers therapeutic osteopathy, acupuncture, massage, and physiotherapy. It even offers massage yoga, where you are massaged while in various yoga postures. That sounds really relaxing!
Do you need more? In late summer, Mouvement Humain doubled the pleasure by opening a second location on Masson. Head over to their page to learn more about this studio, which I'm really looking forward to visiting.
For more information on Mouvement Humain, go to its pages:
St-Hubert studio
Masson studio

Namaste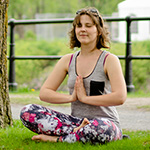 I'm looking for the most amazing yoga classes in Montreal
I'd love to talk about you or visit you. Would you like me to come to your studio?
Email me : [email protected]