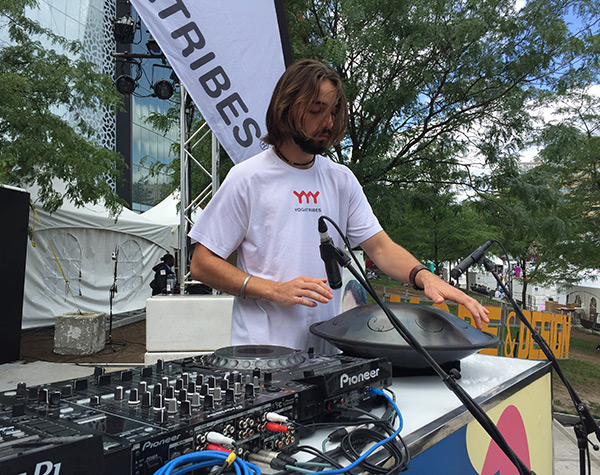 By Jewel H. Lee,
After the much physical exploration in yoga, like asana and pranayama (breathing exercises), we start to wonder about different meditation techniques in yoga. Perhaps you have heard of the Nada Yoga (yoga of sound).
Nada Yoga is as ancient as any forms of yoga, but differs from chanting mantras or other forms of meditation. It is based on the premise that everything in the entire cosmos, including us, consists of sound vibrations (nadas). It is one of the most powerful meditation techniques to calm the mind. Hence, many Hindi deities are musicians: Krishna plays the flute, Saraswati plays the veena, and Ganesha created the tabla drums.
Through sound vibrations, we can treat various mental and emotional conditions. It also helps our awareness and connection of each chakra. With a focused mind and controlled breath, the mind can become so concentrated that you can start to hear the internal vibration (Anahata). This internal sound is also known as the heart chakra, which is responsible for the reception of the internal "music".
Here's how to practice Nada yoga (meditation through sounds):
Go settle in a quiet area, sit or in Savasana position;
Start by listening to an external sound;
You can also choose to play a calm soothing instrumental music;
Quietly, just focus all your attention to the chosen music;
Connect that sound to the inner sound (Anahata);
Once aware of your inner sound/vibrations, focus just on those sounds.
Our internal sounds are the sounds of the blood flow or the nerves. Individual's inner sounds connect directly with the sound of each energy center.
Nikola Tesla said, "If you want to find the secrets of the universe, think in terms of energy, frequency and vibration."
Once we are able to hear our inner vibrations, the meaning of Om, which we chant at the end of a yoga session, can go beyond just the length one exhale.
Om or Aum connotes a beginning and female divine energy. Om is the cosmic sound, mystical syllable or the affirmation to something divine. Om is also the mantra we chant for the 6th chakra (third eye) and the 7th chakra (crown/lotus). Now that we have learned about the Nada Yoga and the meaning of Om, let's put it to practice:
Come to a comfortable sitting position (Sikhasana or Sukhasana);
Take deep breaths (exhale fully to invite a long inhale);
After few deep breaths, prepare for the three OMs;
For each Om, take a deep inhale, as you exhale, let the Om vibrate in you;
First Om, concentrate on the Heart Chakra (Solar Plexus area);
Second Om, feel the third-eye chakra area vibrate;
Last Om, focus on the Crown Chakra and feel the vibrations.
If you would like to practice the above during a yoga session, check out my schedule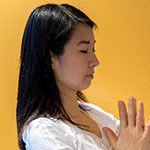 Jewel Harini Lee
Licensed and certified yoga teacher, blogger, tea fanatic and holistic nutrition practitioner.
Founder of www.ayamtl.com
Her blog: www.jewelyoga.blogspot.ca
Follow her on: www.yogatribes.com
Instagram: @jewelyoga
Facebook: www.facebook.com/alignement