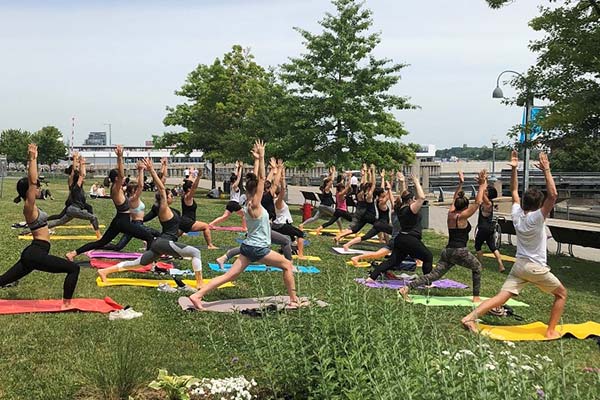 By Catherine Maisonneuve, blogger and yogi
Summer is finally here! Is that a reason to leave your yoga practice behind? Quite the contrary! Summer is the best time of the year to practice yoga in Montréal and the surrounding area – especially when it's free and outdoors! YogaTribes lists some 100 classes daily, but in the summertime, there is an even more generous and extraordinary line-up of events! The YogaTribes team would like to share these inspiring initiatives with you. Here are a few places where you can enjoy free yoga while enjoying summer to the max!
Free yoga in the park
Many studios, including Idolem Saint-Denis and Mouvement Humain Saint-Hubert, organize yoga classes in parks near their studios all summer long. Head over to Jarry (Idolem) on Wednesdays at 5 p.m. and Fridays at noon and Molson Park (Mouvement Humain) on Tuesdays and Thursdays at 6 p.m. Visit our website for a complete list of yoga classes offered in Montréal's parks – there's so much to choose from!
Free yoga on the beach
In addition to its urban beach, shops and pop-up street trucks, the waterfront space Village-au-pied-du Courant in eastern Montréal offers yoga classes on the sand at 6 p.m. on Sundays all summer long.
Free yoga downtown
Les Jardins Gamelin, an outdoor terrace in downtown Montréal (Berri metro station), offers yoga every Tuesday and Wednesday morning beginning at 7:30 a.m., a perfect way to begin your work day! Classes are offered by Tribe Leader Justin Lapointe on the central square at Les Jardins Gamelin.
Free yoga at the museum
Beginning at 7:30 a.m. on Tuesdays and Thursdays, you can practice in the colourful, creative space at La Forêt Urbaine, specially designed for the season in the lane behind the McCord Museum. Classes will be offered by Art of Living studio's team, whose aim is to offer you a different experience of yoga and an inspiring morning break.
Free yoga at the spa
All summer long at 12:15 p.m. on Wednesdays, enjoy lunchtime yoga across the street from the Bota Bota floating spa, at the corner of De La Commune and McGill with a waterfront view of Montréal
Free yoga with OSM
In addition to all the classes being offered by Montréal's talented yoga teachers and studios, YogaTribes presents Yoga & Classical Spree with the Montréal Symphony Orchestra. Two yoga sessions will be offered as part of the symphony's "Grande Virée" series. The urban yoga day takes place on August 10th on Sainte-Catherine St. Enjoy two classes with live music by the OSM: 10 a.m. with Sylvie Tremblay of Yoga Sangha (class in french) followed by a bilingual class at 12:30 p.m. led by Allison Ulan of Mindful Montréal. A free yoga/music event in the heart of the Quartier des spectacles, an event not to be missed!
Free yoga in the country
Finally, don't miss the fourth annual Week-end yoga champêtre at the Oneka organic farm in Frelighsburg, Québec. Just imagine a weekend of yoga to rest and renew, totally free of charge, where you can participate in seven classes and workshops in addition to visiting the gardens, learning more about wild and cultivated plants that are used in Oneka organic products, or simply enjoying a picnic in the fields. The program of activities includes educational tours of the Oneka garden and fields with an herbalist and outdoor classes with local teachers. Don't miss it!
And hundreds more…!
And if all these free classes aren't enough, you can find more than 100 more on our website. Exceptional studios, teachers and sites offer yoga workshops, free classes and special events all summer long. Visit our website for a complete list.*
Are you attending or organizing a free yoga event this summer? We want to know about it! Contact us at [email protected]
*We encourage free yoga organizers to share their classes with us this summer – we'll be happy to add them to be posted on YogaTribes.com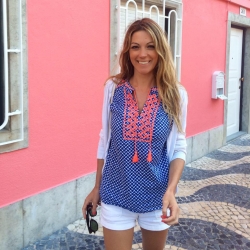 Catherine Maisonneuve
Blogger and yogi at 
Checking-in.ca
Author of the travel blog 
Checking-in.ca
 and freelance journalist specializing in travel, lifestyle and gastronomy. Part-time yogi and passionate about fitness, wellness and adventure.