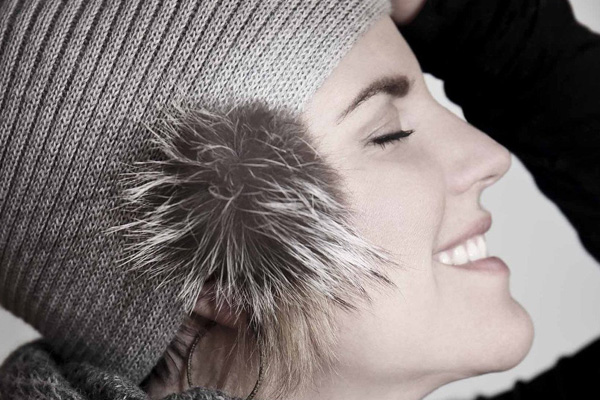 I had the immense pleasure of spending an afternoon in the atelier of Sophie Marino of La Fibre et Moi, a local designer and creator of divine accessories made of alpaca fibers and recycled fur.
Located in an ancestral home on Main Street in Frelighsburg ( soon to be relocated in Dunham in the Relais de la Diligence), one of the loveliest villages in Quebec, her studio serves as the main stomping grounds for her thriving business. I met Sophie at the local Christmas market last December and loved her big personality and gorgeous designs. She was quick to point out that consumers are increasingly passionate about encouraging local artisans and businesses. This was music to my ears.
On a whim, I had purchased a lovely shawl and wore it on Christmas Day. I received a ton of compliments.
A self-proclaimed entrepreneur, Sophie hails from three generations of strong-willed women who have both thrived and succeeded in the local fashion scene. Entrepreneurship runs in her genes and it shows. You can feel the passion and drive in her eyes when she talks about her business and her family's history.
Sophie's grandmother was the proprietor of three boutiques by the name of Josée de Montréal in downtown Montreal. A tower of strength with much charm, beauty and charisma, her grandmother offered clothing and accessories, including fancy hats.
Her mother also ran a clothing shop in Knowlton, then in Cowansville, also in the Eastern Townships, importing designer wear and home goods .
After giving birth to her daughter and deciding to leave the family business, Sophie decided to spread her wings and take a chance, something she had done when launching a line of scarves at the age of twenty-two at a boutique on rue Fleury in Montreal.
She got the idea to fly solo when her aunt Josée (also in the fashion and knitting business) decided to give up her old knitting machine.
Despite having no experience with this type of machine and no instruction manual, Sophie took it home and began doing tests with various fibers when her kids were sound asleep at night.
She began discovering and playing with many different fibers of varying qualities, including baby Alpaca wool and silk.
That's when she fell hard for this fibre : that she describes as refined, silky, chic, light, and classy. And that's when she had a major flash.
Sophie began creating scarves, hats, shawls, with various textures and patterns, including polka dots and stripes, all original and classy. Many of her products are unisex and can be worn year round.
Coincidentally, the tenant living in the adjacent apartment in her home decided not to renew her lease, leaving Sophie with the space she needed to launch her business. She asked her husband to give her a year in order to get the business off the ground. It only took three to four months to make up the rent for the entire year. Sophie was thrilled and a new enterprise was born.
This gave her the energy she needed to move to things to the next level.
Sophie received much support from local organizations, including the Centre Local de Développement ( CLD). She also attended trade shows in Quebec City where she met sales representatives and potential buyers.
On one particularly successful trip to Quebec City, she managed to get a meeting with the owner of the shop at Le Château Frontenac, one of Quebec's grandest hotel establishments. She left her some samples and they disappeared within days.
This was a major turning point for Sophie and as she needed to act quickly in order to met the increasing demand.
Rallying her family, including her mother and two sons to help out with production, she managed to deliver everything on time and then some.
Today, her products are offered in twenty-three points of sale and in over forty colors, including the Montreal Museum of Fine Arts, the Art Gallery of Ontario, and stores across the province. It's worth mentioning that Sophie is a fan of yoga and meditation. She also practices mindfulness, which helps her stay centered amidst all the whirlwind of activity.
When asked what the future holds for La Fibre Et Moi, she mentions a line of sweaters. She is also looking at offering her products on cruise ships and more hotels in the United States and Europe.
I'm not surprised; these quality creations belong on the world stage. But don't be fooled by the glamour and expansiveness of her business, Sophie is as down to earth and welcoming as can be.
Don't forget to stop in and say hello upon your next visit to the Eastern Townships.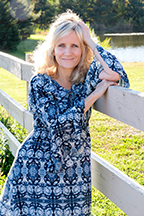 Isabelle Lafleche
I'm a writer and the author of the novels J'adore New York, J'adore Paris, and J'adore Rome. You can follow me on my blog, Twitter, Facebook, Instagram, and on my website.