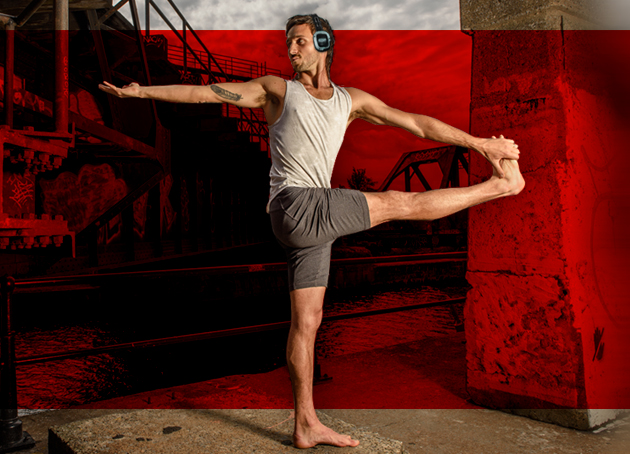 Last September, the YogaTribes tour ended with a grand finale at the Lachine Canal. The sun was setting as Montrealers gathered at this sold-out event to immerse themselves in a brand-new form of yoga: silent yoga. We also had the pleasure of being joined by our friends and partners, as well as 30 Rouge FM auditors along with their star radio host, Julie du Page.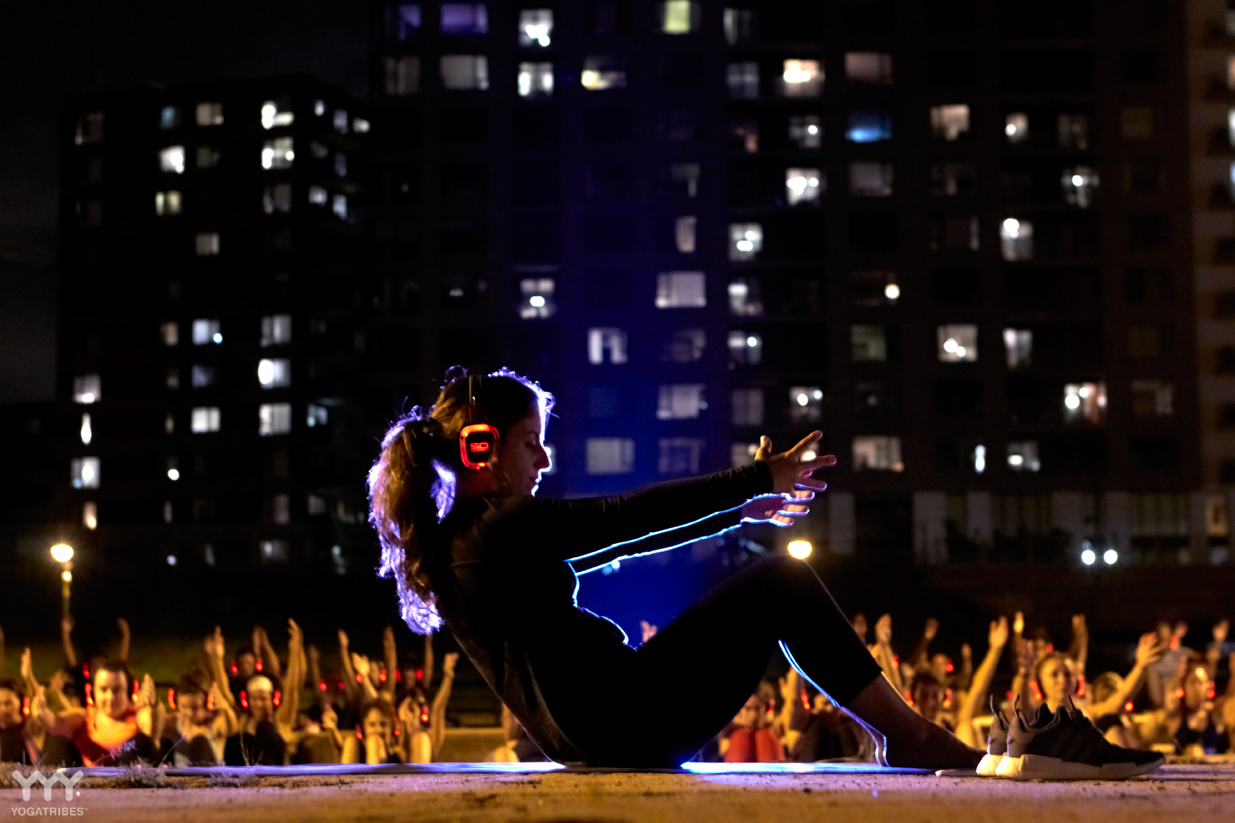 For this very special evening, we turned Peel Basin into an outdoor yoga palooza with 300 lucky participants, invited for free by YogaTribes. We brought out the best that night to make this happen. Yoga mats were courteously provided by lululemon® from their latest collection. We had teacher Andrew Bathory lead the class from the YogaTribes stage. And we had music from Brooklyn-based DJ Panic. Thanks to Sound Off™, all yogis had wireless headphones, through which the participants were able to listen to the teacher and the music, while being completely protected from outside noise.
This created a unique and immersive experience where the yogis could find peace in their own personal bubbles. Despite being outside, they were able to completely be one with their inner selves. They didn't even notice the occasional trains going by. Yet, everyone was also in perfect harmony with each other.
The scene was marvelous. Warm lighting shone from the stage as hundreds of headphones lit up in the dark. Everyone was moving in unison, surrounded by Montreal's skyline at night. It was absolutely stunning.
And to top off this magical night, there was a big surprise for the yogis. At the end of the session, Andrew Bathory, a lululemon® ambassador, announced that all yoga mats provided for the event that day were being offered to all our guests. This took everyone by complete surprise, followed by gasps and cheers of joy. A fitting souvenir for this fantastic evening.
All in all, the first ever silent yoga event in Canada was a great success. It was a soothing experience at a wonderful place, with hundreds of others, led by a great teacher. For the participants and the spectators alike, it was a truly memorable event.
We sincerely hope to be able to do this again next year in the summer of 2017, and we certainly wish that you will join us that day. Until then, keep your eyes on us Montreal!