I first met Karine Lydia in a business class. At the time, her fusion Pilates classes motivated me to go to work on Fridays. We first fell in love with Karine Lydia because of her incredible energy. Her classes have always been fun and well planned. Her concept is a mix between Pilates and yoga, with many workout exercises. She also offers stretching classes on Saturdays at noon.
The Beach Bum Tribe studio is also in the basement of her house; a charming little studio that accommodates six people, for a more intimate and personalized feel. We enter through the garden and the decor is inspired by the ten years Karine Lydia lived in the Dominican Republic. What a change of scenery! The advantage of classes with only six people is that they are adapted to each person's needs, and Karine Lydia takes the time to reposition us if a pose is wrong. Also, we are able to loosen up and laugh. We do not take ourselves seriously, and we can talk, and joke around. The classes go by much faster this way. (And if you are looking for a good restaurant or a thrift shop, everyone there will surely be able to advise you!)
Although the class doesn't seem too strenuous, you will increase your endurance and you will certainly feel the effects on your muscles. It is an excellent class for those who wish to gradually increase their muscle tone. Everything is provided, including flavoured water. You only have to bring your smile and comfortable clothes. In addition to the classes given at her mini-studio, Karine Lydia offers business classes and retreats to the South. Maybe we will we meet there!
For more information on the studio, visit the website.

Namaste!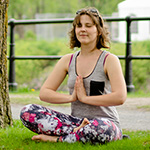 I'm looking for the most amazing yoga classes in Montreal
I'd love to talk about you or visit you. Would you like me to come to your studio?
Email me : [email protected]