This month, I'll be writing about a marvelous product with huge nutritional upside: miso.
A traditional food used extensively across China and Japan, miso is considered a superfood. This brown fermented paste has a texture that's similar but somewhat more malleable than date paste. Miso is derived from soy beans, sea salt and either rice or barley, depending on desired results.
The taste is generally salty, so a little goes a long way in creating a rich and satiating effect. As fermentation implies a living organism, miso delivers a rich supply of healthy bacteria to improve digestion, top up your organism's "good" bacteria, and boost your immune system. With its high protein content, you only need a small quantity of this product to nourish and energize you.
Miso paste can be incorporated in numerous ways. As a condiment, it adds a salty note to deepen the flavours in your dish. You can also use it to make a simple broth for your soups; substitute it for salt in your cooking; infuse your dips with a unique and original flavour; or add it to hummus, pasta sauces, or salad dressings.
In short, it's so versatile that there's no reason not to add it into your cooking today!
An important caveat: if you use it in warm food, add it only at the very end of the process. Otherwise, you'll lose many of the crucial nutritional and living-food qualities that constitute miso's key benefits.
One of my favourite misos is made right here in Quebec. It's certified organic, available in a broad range of products to satisfy every palate, and naturally, backed by authentic, unique people who are just as inviting as their product! Let me introduce you to Miso Massawippi.
To help you integrate it in your daily routine, here's one of my Healthy Flavourful and Simple Recipes.
"Kasian" Soup (single serving)
Ingredients:
4 cups of water to boil
A handful of raw mushrooms, cut into strips
A handful of frozen peas
½ cup goji berries
Zest of one lemon
2 green shallots, cut into chunks
1 fresh garlic clove, pressed
Pepper to taste
A pinch of ground hot chili pepper
1 tablespoon Nori flakes
Sunflower sprouts, for garnish
2 teaspoons of miso of your choice (my favourite is Japanese-style mushroom miso)
Preparation:
Boil the water in a large pot or deep casserole dish.
Add the mushrooms, peas, goji berries, garlic, and chili pepper.
Simmer for 5 minutes.
Remove from heat, setting aside ½ cup. In a small bowl, whisk in the miso.
Pour the liquid back into the pot. Add the rest of the ingredients: lemon zest, shallots, pepper, and Nori flakes.
Pour into a large bowl and garnish with a few sunflower sprouts.
Enjoy this quality dish!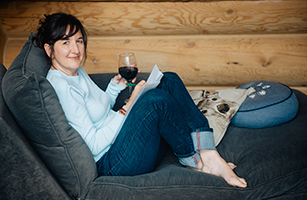 Karine Verpillot
Karine is an executive assistant, naturopath, culinary chef, coach and trainer in gourmet and plant-based health, and a wellness and culinary blogger with
VGtables.com
. Focussing on Simple Healthy Flavours, and on nourishing herself to reinvent herself, is Karine's daily priority. Welcome to her world!