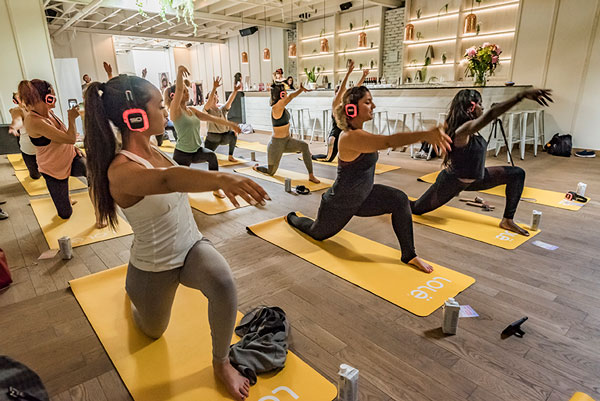 YogaTribes offers a series of Immersive Yoga events throughout the fall at LoV on the la Montagne Street. YogaTribes' Immersive Yoga is a brand new style of yoga with wireless headphones that allow you to live a sensory and musical experience unique in it's genre.
Two yoga classes every Tuesday will be sure to please at lunch time or for Happy Hour. LoV space is located on the 2nd floor of one of the best restaurant in the city with it's authentic decor and bohemian vibe. Each class will be conducted by a yoga teacher from the Mtl yoga community and the program offers a wide variety of styles to make you discover a new style and teachings that fits their personality. An invitation to meet with them and book their class directly on YogaTribes.
Mats are provided by Lolë. Class will be at Espace LoV on the 2nd floor of the LoV Restaurant and there will be restrooms available to change. The space will be open at 11:45 am for the day class and at 5pm for the night class.
Every single one of YogaTribes' Immersive Yoga class takes place in an original and authentic place and is led by a teacher from the local yoga community. By being a part of it, not only will you be introduced to this new kind of yoga (and taste!), you will also discover new teachers and studios! Stay tuned for our next events or organize yours according to your goals and desires by visiting our website www.yogatribes.com