About the Class
Un cours composé de variations offertes pour combler les niveaux de tous les élèves. Le cours contient moins d'explications mais plus de variations progressives laissant le choix à l'élève de les suivre ou pas. A class designed to fit all levels, giving the student introductory poses and more advanced poses for more advanced practitioners. Contains less instructions but has more variations, leaving the student the choice to experiment on his/her own.
About the Tribe Leader
Where to?
Idolem Ville St-Laurent Hot Yoga Chaud
2040 Boul. Marcel-Laurin
Suite 200
Montréal, QC
H4R 1J9

About the place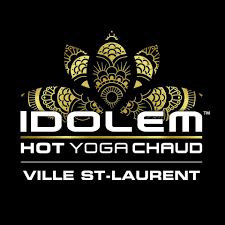 Le studio de Ville St-Laurent aura une salle chaude de 60 places, et de nombreux cours aux horaires flexibles. Un coin lounge, un bar de Shakes santé et de grands vestiaires, seront à votre disposition. Le décor y sera tous simplement révolutionaire.
View profile